This is a collection of 210 African Writers Series texts which are out of print. Users can access this database to view, download and print these texts.
AGORA from UN (FAO) provides access to a collection of more than 3500 key journals and 3300 books to enhance research in agriculture and life sciences in the developing world.
Aluka a Zulu word meaning "to weave,"is part of JSTOR initiative, which provides digital collections by attracting high-quality scholarly content about Africa from institutions and individuals across the globe.
This site provides access to a number of High Impact Physics journals published by the American Physical Society..
BioOne Provides access to high-quality publications in the biological, ecological, and environmental sciences
BMJ Journals is a collection of more than 70 medical and allied science titles published by BMJ, the global healthcare knowledge provider and pioneer in the development of open access
A collection of Five different databases mainly on Agriculture related subject area.
Access to 300 peer-reviewed academic journals published by Cambridge University Press containing the latest research from a broad sweep of subject areas
Periodic and open access content from the Canadian Science Publishing
EBSCOhost provide access to a number of databases with special focus on Academic, Business, Nursing, Health Source: Consumer Edition, Newspaper Source, MEDLINE and Masterfile Premier.
The university's ebook platform hosted by EBSCO. This is a growing collection of ebooks mainly Text books related to the curriculum at UNESWA.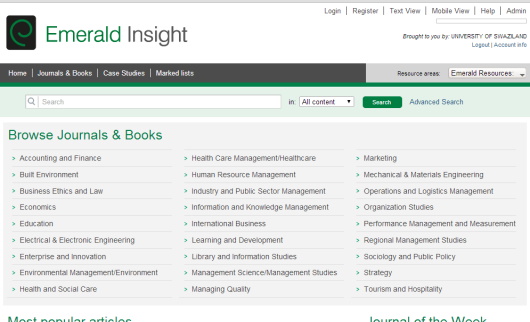 Emerald Publishers provide access to 290 Journals mostly covering Management issues especially Financial, Library Studies, Education and Engineering .
---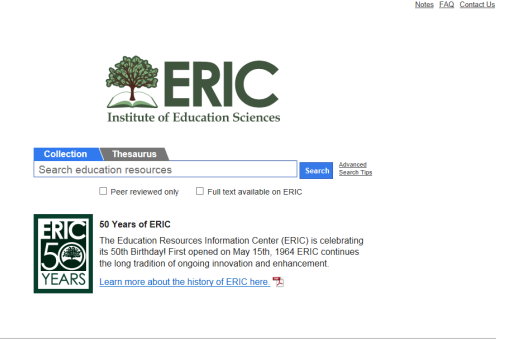 ERIC: Education Resource Information Centre
ERIC compiles a number of Educational Resources to help research in Education. Initially started as a bibliographic database, it provides link to a number of full text articles.
---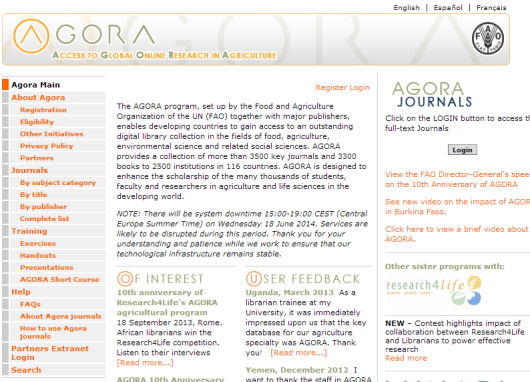 The Essential Electronic Agricultural Library (TEEAL)
The Essential Electronic Agricultural Library (TEEAL) collection for Agriculture faculty. This is hosted from our local server.
---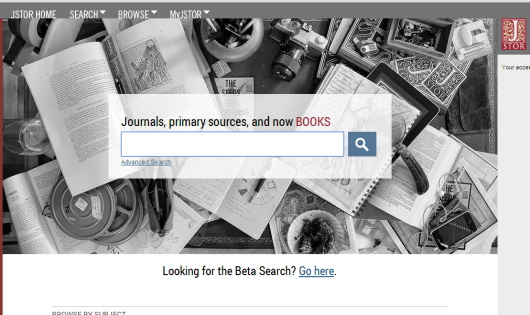 JSTOR
Access to more than 2,000 academic journals, along with thousands of monographs covering a broad range of disciplines, predominantly in the humanities, social sciences, and field sciences.
---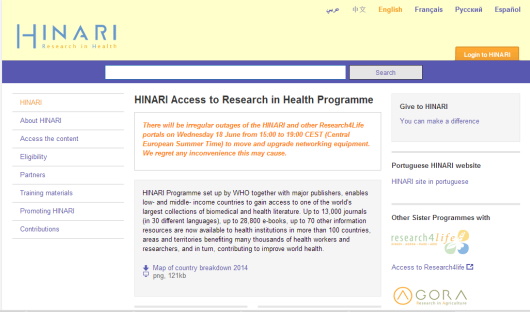 HINARI
HINARI Programme from WHO provides access to 13,000 journals (in 30 different languages), with 28,800 e-books and 70 other information resources.
---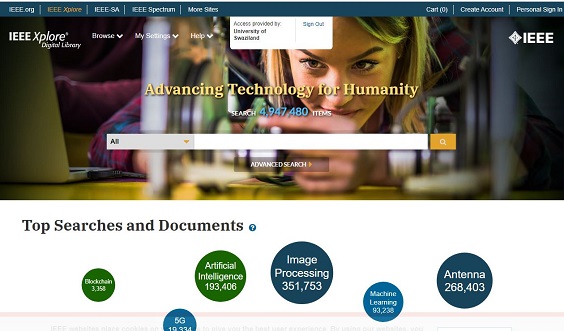 IEEE/IET Electronic Library (IEL)
IEL provides access to 193 IEEE Journals, 30 IET Journals and Magazines, 1,700 IEEE Conference proceedings, 25 IET Conference and Seminar Digests and more than 3,900 IEEE standards..
---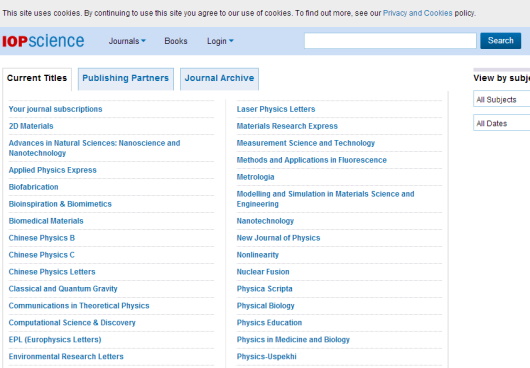 Institute of Physics Journals (IOP)
IOP Science Journals link gives access to a collection of 80 high impact Physics journals published by the Institute of Physics.
---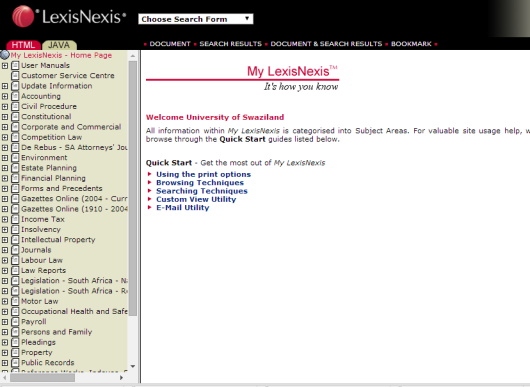 LexisNexis Law Library
World's important Law Library LexisNexis is now available from UNISWA's local server for easy access. This law library is complete with coverage of most law journals upto 2012..
---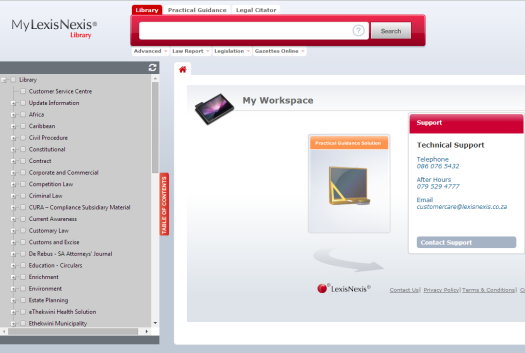 LexisNexis Complete Collection
This is an upto date online version of the LexisNexis Law library.
---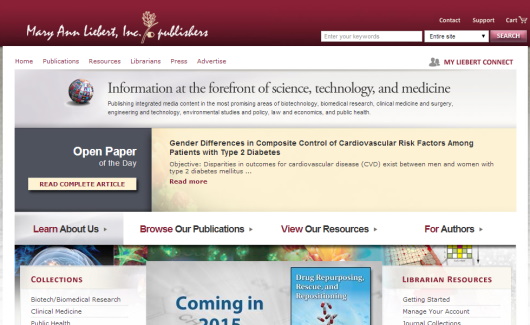 Mary Ann Liebert Publishers
A collection of journals in the area of biotechnology, biomedical research, clinical medicine and surgery, engineering and technology, environmental studies and policy, law and economics, and public health.
---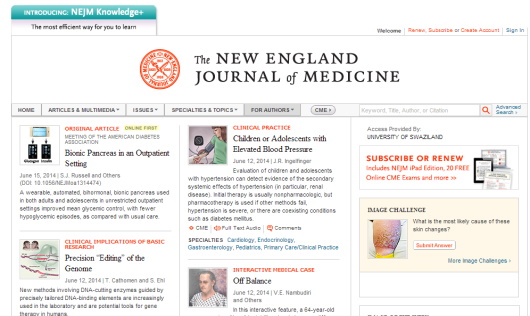 New England Journal of Medicine
The New England Journal of Medicine provides access to journals in the field of Medicine and Health Sciences
---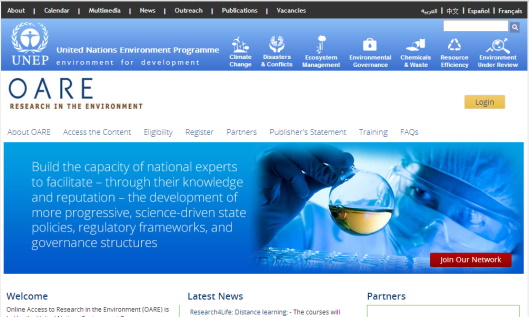 OARE (Online Access to Research in the Environment)
United Nations Environment Programme (UNEP) in partnership with major publishers provide access to 5710 peer reviewed journals and 1119 online books, and other information resources.
---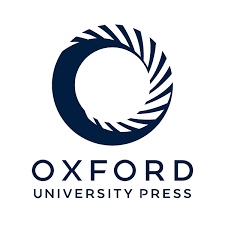 Oxford University Press Journals
OUP provides access to 300 journals in the humanities, social sciences, law, science, and medicine, two-thirds of which are published in partnership with learned and professional societies.
---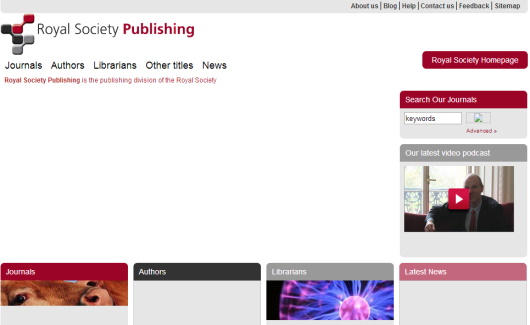 Royal Society Journals
Royal Society Journals provide access to journals published by the Royal Society of London which cover a wide science subjects.
---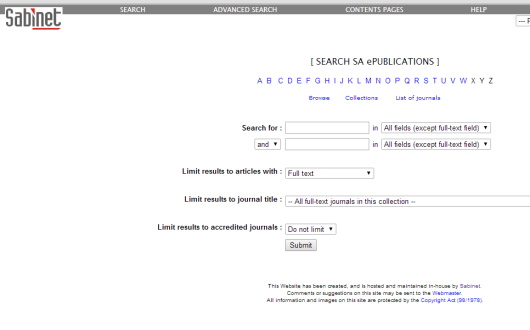 Sabinet E-Journals
Southern African Bibliographic Network provides access to Southern African research.
---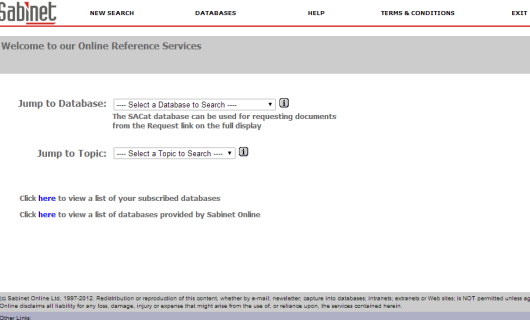 Sabinet Online Reference
Sabinet Online Reference provide access to a Number of Online Reference Databases mainly on Southern African region. Choose a database from the list and access the relevant information ....
---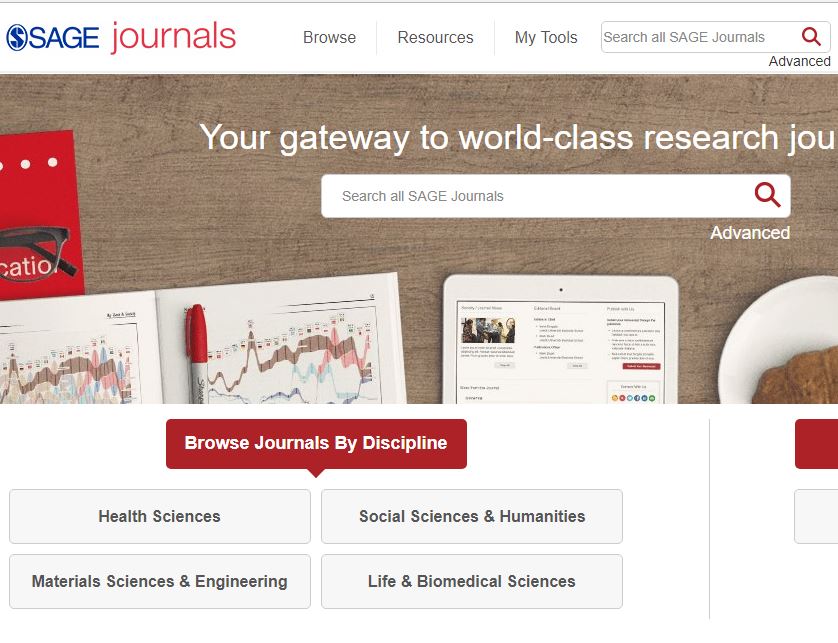 SAGE Journals
Close to 1000 journals in the field of Social Sciences, Humanities, Health, Life and Medical Sciences, Engineering and Physical Sciences are accessible from this link.
---
SCIENCE Direct
This database from Elsevier provides access to more than 2400 journals spanning around 23 different subjects. ScienceDirect contains over 25% of world's science, technology and medicine full text and biblio information.
---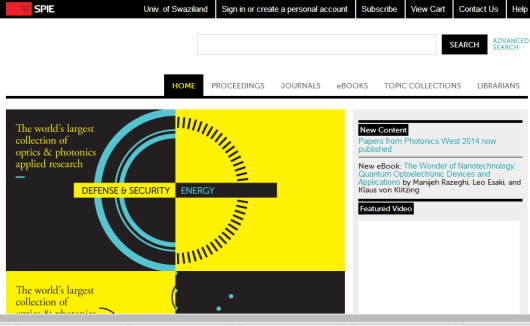 SPIE Digital Library
SPIE Digital Library provides access to high impact electronic journals and magazines in the field of optics and photonics applied research
---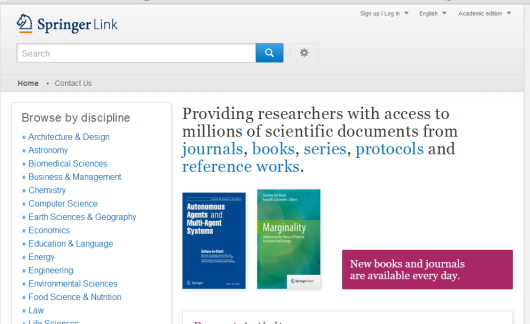 SpringerLink
SpringerLink electronic journal database provides access to millions of peer-reviewed journal articles on a wide subject area with main focus in Science, Medicine and Technology...
---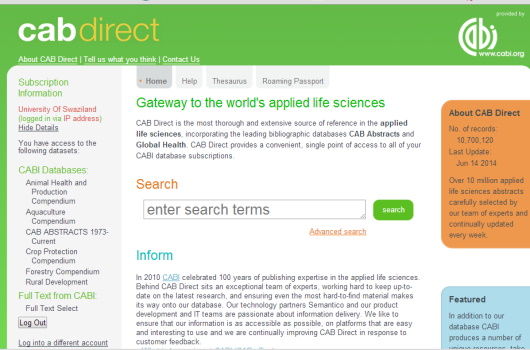 Swaziland (Eswatini) National Bibliography (SNB)
Eswatini National Bibliography published by UNESWA Library.
---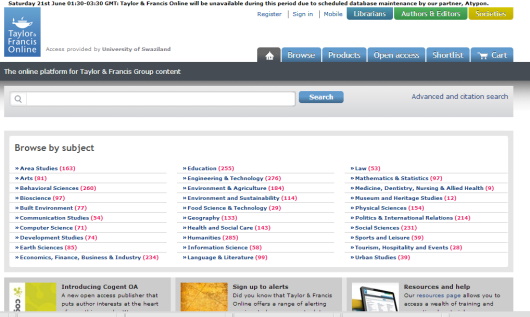 Taylor & Francis Online Journals
Taylor & Francis Online Journals provide access to 2000 journals published by the Taylor & Francie Publishers which cover a wide subject area......
---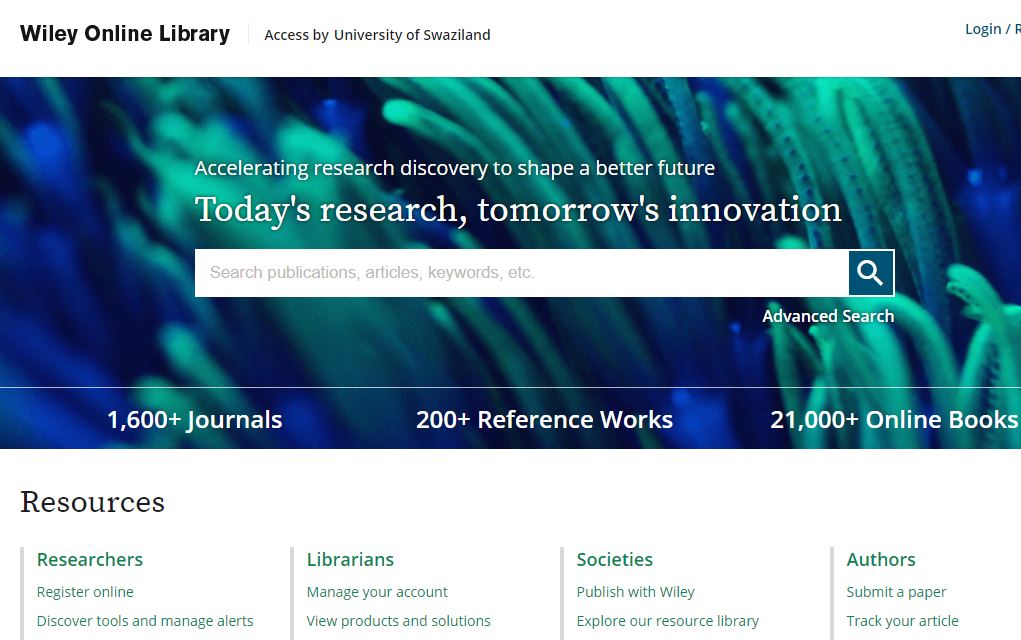 Wiley Online Journals
Wiley Online Library provides access to all the Wiley subscriptions from UNISWA and a number of Open Access resources. You have a choice of accessing the individual journal titles or the entire library ...
---